The device for magnetic resonance MAGNETOM SYMPHONY 1.5 T is the most modern device of its type on our market today. The main feature of the magnetic resonance device is that it does not use X-ray radiation for diagnostic imaging, and it has the highest contrast resolution among diagnostic methods. The diagnostic application of the device is wide, especially in imaging the brain and spinal cord, intracranial and extracranial blood vessels, injuries and pathologies of the musculoskeletal system, abdomen and pelvis, and the breast, and since there is no ionizing radiation, it is the method of choice in the diagnosis of children and younger people.
In addition, on our new device there is also the possibility of screening the whole body in one act, which means the diagnosis of the whole body without ionizing radiation. Due to the strength of the magnetic field, the search itself is now shorter compared to devices with a weaker magnetic field. It is important to note that there is no preparation for the search itself.
We are the only ones doing magnetic resonance imaging of the breast in the Tuzla Canton.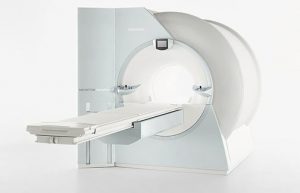 MR mišićno-skeletnog sistema (koljena, lakata, ramena, stopala, mali zglobova) koristi se za prikaz mišića, tetiva, ligamenata, hrskavice, meniskusa i labruma, zglobne čahure ali i za prikaz
Saznaj više »